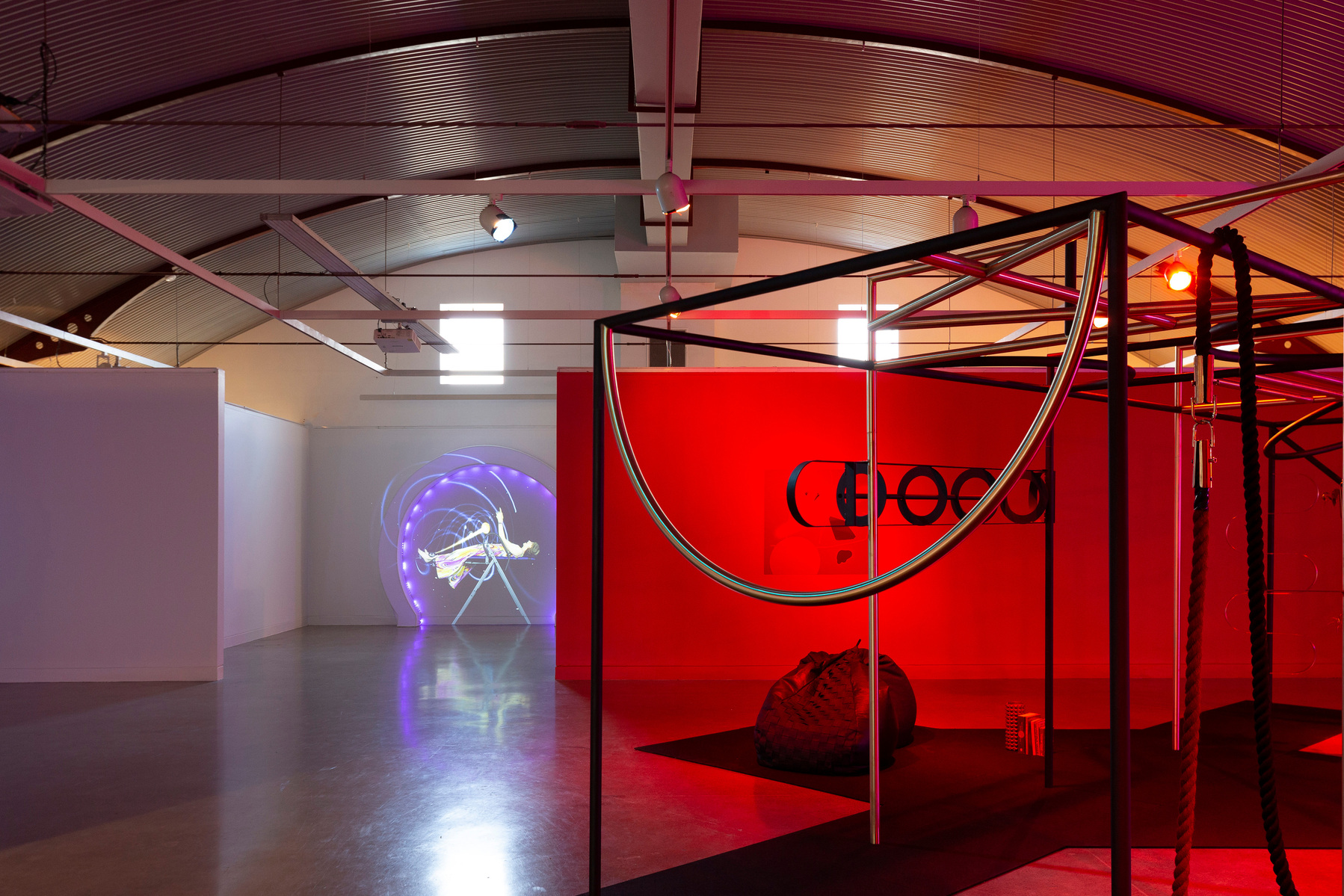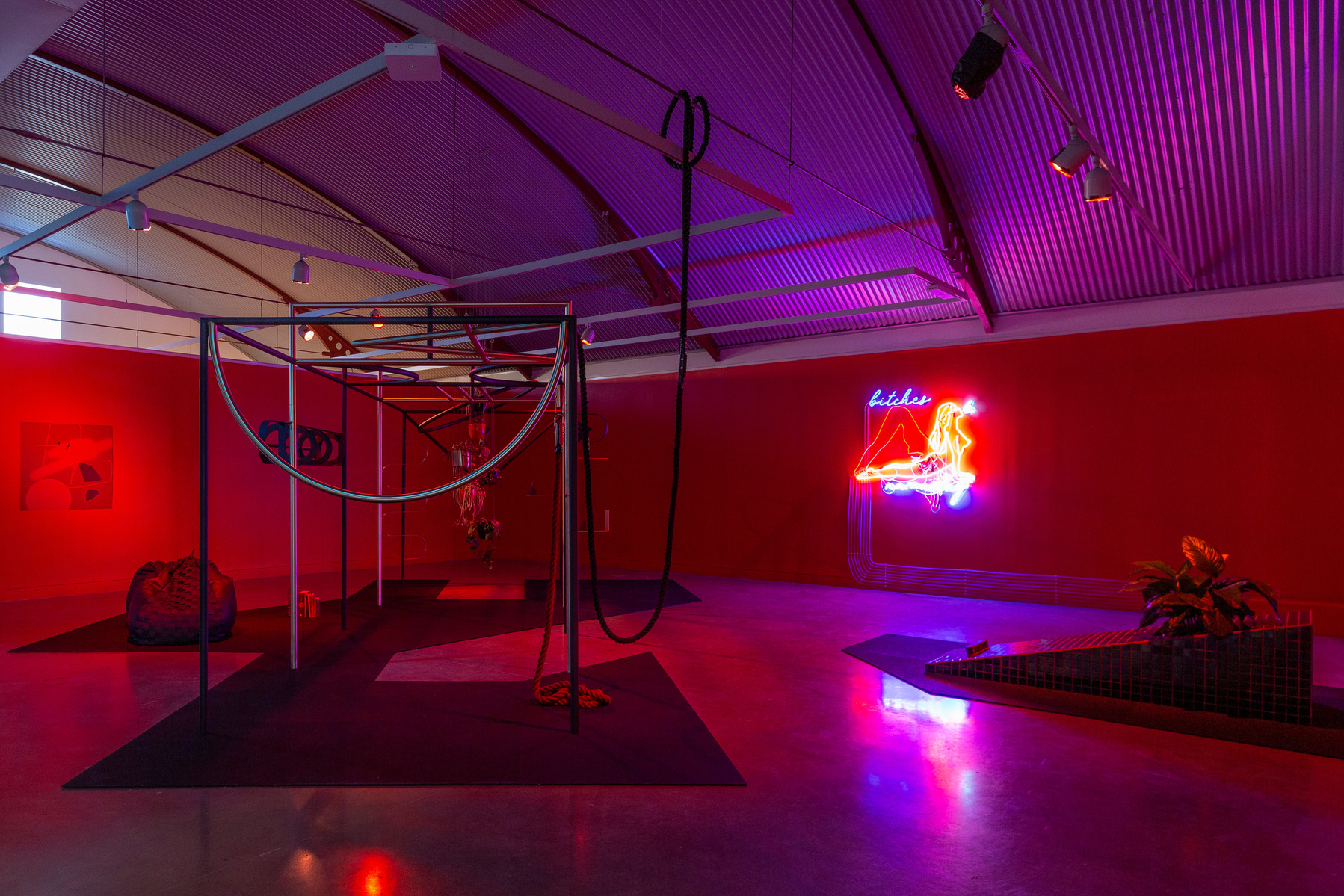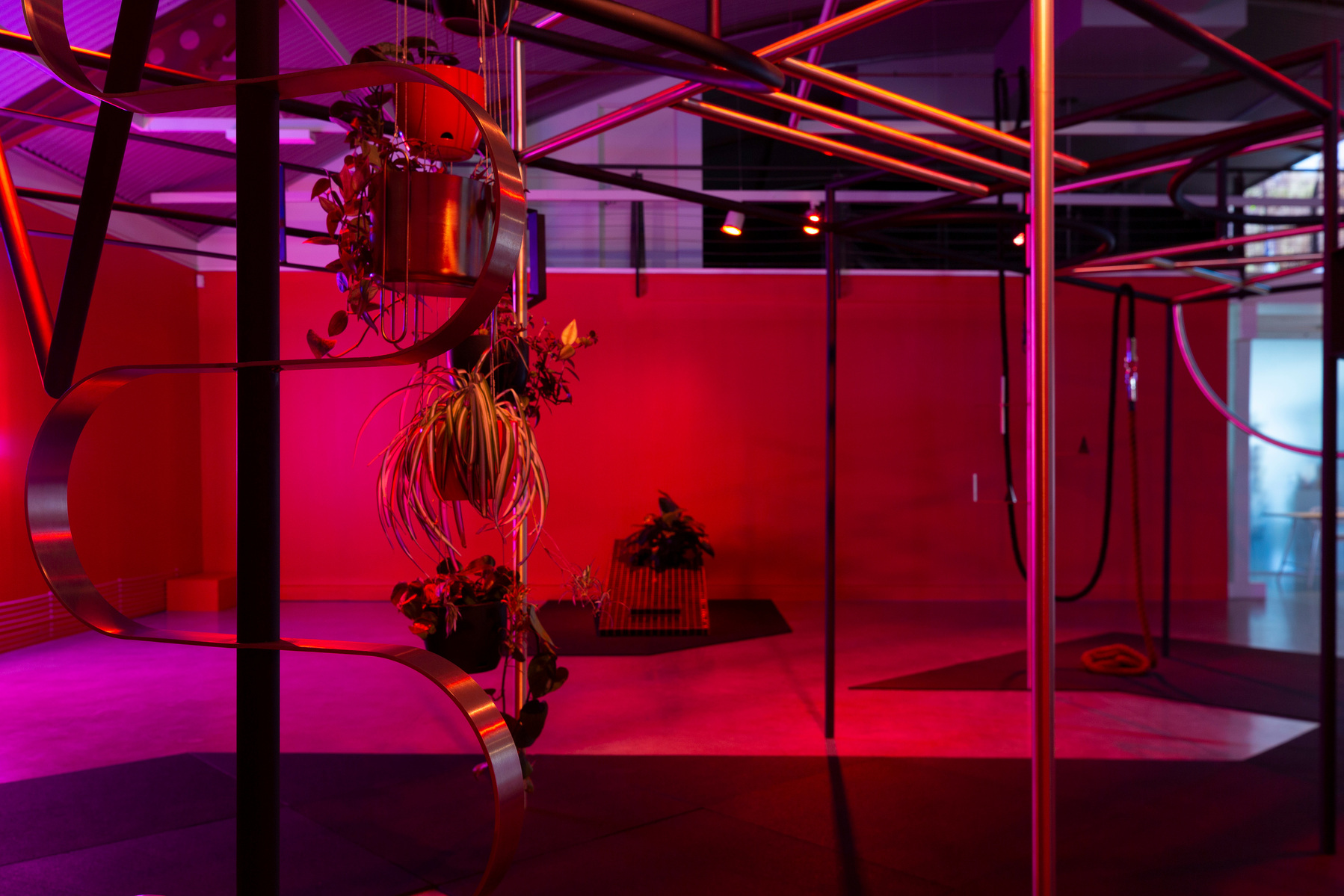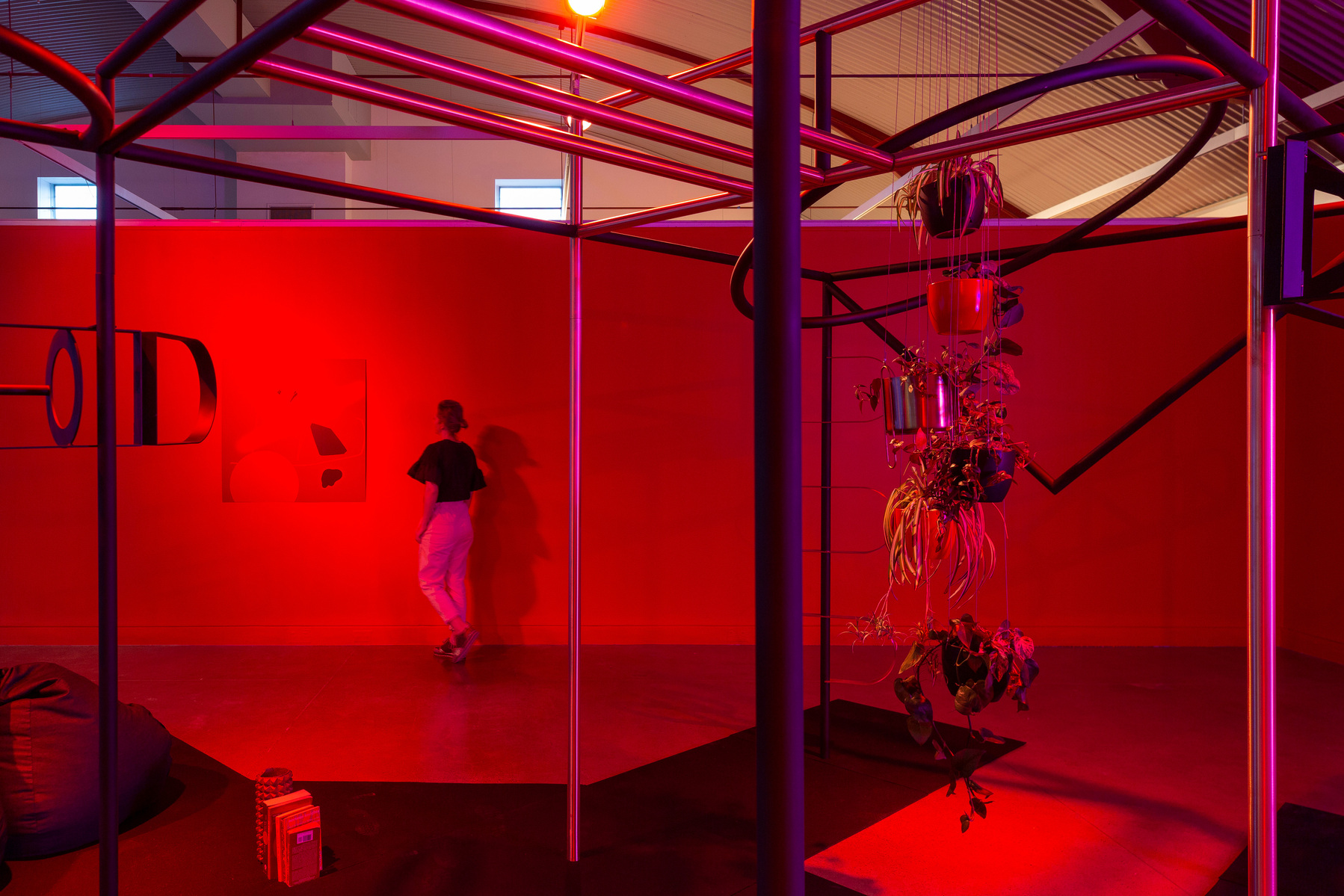 In our 4th annual international pairing, Cement Fondu presents Soul Seeker: Shana Moulton X Min Wong, an exhibition that explores the relationship between consumerism, self-care and the search for spirituality.
Feeling evermore poignant following the lockdowns of COVID-19, the artists present installations that channel common anxieties and desires relating to isolation, longing and belonging. In their works, familiar yet surreal scenarios are characterised by the objects and activities of everyday life, and reflect a shared drive to personal improvement that is deeply embedded in the day-to-day and normalised in conceptions of self. Relatable, humorous and profound, their works embrace a mundane desire for a better life that plays out in quests for meaning and validation.
New York based artist Shana Moulton uses video, sculptural installation and performance to evoke a sometimes claustrophobic domestic world inhabited by her alter ego Cynthia, who suffers from hypochondria and agoraphobia. Through Cynthia's interactions with new age paraphernalia and animated encounters within her home and natural surroundings, Moulton paints a picture of a woman both trapped and comforted by the walls of domesticity; confined by phobias and anxieties yet freed through escapes from reality.
Commissioned by Cement Fondu, Sydney-based Min Wong presents a major new installation, Lone Wolf, 2022, which explores contemporary metaphysical narratives, esoteric practices, ritual and the relationship of spiritual guru and seeker. Wong's work is informed by her personal search for meaning through spirituality and fitness practices, and reflects diverse influences and lived experiences including Evangelistic Christianity in childhood and her Chinese father's ritualistic practices as a Taoist.
Lone Wolf will be Wong's most ambitious work to date, creating an immersive environment that embodies and disrupts the architecture, equipment and ethos of exercise and wellness centres, adopting tropes drawn from the fitness 'cult' CrossFit and online spiritual leaders. The work also features video, and 3D rendered elements by artist and frequent collaborator Brie Trenerry. Through an ambivalent approach, which creates space for both cynicism and hope, Lone Wolfuniquely examines the conflicting dualities of contemporary spirituality.
Highlighting the absurdity of our increasingly commodified bids for happier realities and more peaceful minds, these two artists simultaneously touch on the deep human desire to sense personal significance and belonging within the bigger picture.
This project is supported by the NSW Government through Create NSW.
Exhibition essay
Survival of the Fittest
The origins of today's fitness culture can be traced back to the United States of the 1950s and 1960s. In the wake of world war two, a newly affluent American middle class embraced consumerism and domestic life, moving to the suburbs and filling their homes with technologies designed to make life more automated and leisurely.
This new domestic bliss, however, brought with it a new set of anxieties. Sitting in their cars, in front of their televisions, or at their desks, middle-class Americans began to worry that they were getting soft and fat, and that their hearts were getting weak. As they looked across the Cold War Atlantic at the growing strength of their European friends and Russian enemies, the comforts of American life began to appear not just as a health problem, but also as a political problem.
The solution, to both, was fitness. Americans needed to start working on their bodies.
Bodywork has, of course, long been understood as a key technique in the formation of modern subjects. In the US during the 19th and early 20th centuries, the new discipline of "physical culture" was harnessed by church and state as a means to produce ideal citizens and good Christians, as well as new racial and gender hierarchies. By the mid-20th century, the classification and training of the bodies of the masses was at the heart of European and US ideologies of whiteness, fascism, and socialist revolution.
The idea of fitness that took shape in mid-century America, however, was different.
Firstly, the environment to which it sought to acclimatise its subjects was not Christian morality, nor the modern nation-state, but the everyday life of white, middle-class office work and consumerism. The goal of fitness training was not simply the lack of disease, but rather a more holistic wellness that included the individual's full potentiality—their muscles, organs and mind. In his virally popular 1968 book Aerobics, which prompted the popular uptake of the new fitness discourse, Kenneth Cooper put it like this:
The training effect may change your whole outlook on life. You'll learn to relax, develop a better self-image, be able to tolerate the stress of daily living better. And, what is very important, you'll sleep better and get more work done with less fatigue, including desk work.
Secondly, the burden of fitness training was no longer borne by external authorities like the state or the church. Instead, health became the responsibility of the individual. In the 1970s, this found a warm welcome from all sides of the political spectrum: from the counterculture's calls for individual freedom and the demedicalisation of health, to the new conservative moralism of self-discipline and push for the privatisation of health care.
The new fitness culture really took off, however, when it found its own space. The gym of the preceding decades had not been a welcoming place for the middle class. Gyms tended to be either exclusive and expensive clubs for executives, or dank and smelly basements for working-class body builders.
The new gym of the 1970s was purpose-built for white middle-class consumers and office workers—and even for women. It was bright and airy, and its walls were lined mirrors, which both expanded the space and focused the gym-goers' attention on themselves. The space was also lined with the latest exercise machines, meaning that one did not need the intervention of experts—one could work out alone, and in peace.
***
The commercial gym model that took hold in the United States in the 1970s is still with us. Contemporary fitness culture, however, also has a second origin point.
In the early 1970s, as the new gyms and their machines were spreading across the United States, a young gymnast from the San Fernando Valley, Greg Glassman, was busy inventing his own fitness regime. The story goes like this: Glassman, an aspiring competition gymnast, found that his regular training did not provide the high-level exertion that he felt he needed to master to compete at the elite level. He built a gym in his garage and soon came up with his own workout sequence that was so intense he vomited. He immediately introduced it to two of his workout friends, who also vomited.
Over the next three decades, Glassman built this basic ingredient—extreme physical intensity, experienced collectively—into a complete training regimen, and a multinational business: CrossFit. Since Glassman opened his first CrossFit gym in Santa Cruz in the mid-1990s, CrossFit has become one of the world's fastest growing fitness enterprises, now serving around 5 million clients with around 14,000 affiliate gyms worldwide.
Glassman's theory of fitness (elaborated in a series of articles published in the CrossFit Journal in the early 2000s) is in staunch opposition to the one described above. Mainstream commercial gyms, Glassman argues, proliferate a model of health that is holistic in only the most superficial sense. In their dependence on machines, these gyms foster a fitness grounded in isolation: the isolated training of individual muscles or skills (as in weightlifting or endurance running), and the isolation of gym users from each other.
In contrast, CrossFit trains for "total fitness". The fitness of its participants is measured (and measurement is key) by their competency in a broad range of physical skills, and their ability to engage these skills in unexpected scenarios. In practice, this means that CrossFitters are challenged to complete daily workouts (called Workouts of the Day, or WODs) that involve a constantly varying mix of weightlifting, athletics and gymnastics.
CrossFit training does not take place in a gym. Indeed, Glassman prides himself on being thrown out of many gyms as a trainer. Instead it takes place in a dedicated space Glassman calls "the box". To allow for the diversity and variance of workout techniques, the box is stripped of machines and mirrors, providing open space for collective workouts.
CrossFit is often understood as a primitivizing, backward-looking model of fitness—a point easily substantiated by its embrace of the paleo diet. However, the subject that CrossFit seeks to shape is not a pre-historic, paleolithic man. Nor is it the commercial gym-goer, adapted to the stresses and strains of everyday middle-class life. Instead, the ideal CrossFitter is the policeman, the fireman and the soldier—one who must be prepared at any moment for unpredictable acts of violence from a hostile nature and humanity. The subject of CrossFit is a deeply dystopian future human who must fight to survive.
***
Min Wong's exhibition Lone Wolf (2022) presents a box, framed by a cube.
The box—a CrossFit box—is produced by the exhibition's centrepiece, a steel workout rig. The rig includes various functional elements that one would find in a CrossFit box (rubber mats, bars for chin-ups, a rope) and various non-functional elements that gesture to the 1970s history from which it emerged (crystals, plants, books on wellness). The shape of the box springs up around this set-up like a gestalt.
The box is also given definition by a force that pushes in from outside it: the walls of the gallery itself. Here the work points to another history of the late 20th-century subject. In a set of essays published in ArtForum in 1976, the writer and artist Brian O'Doherty explained how the seemingly passive space of the "white cube" became in the modern era an active agent in the production of art. By carefully bracketing out the outside world, O'Doherty argued, the white cube not only elevated the aesthetic objects within it, but produced a particular type of art-viewing subject. If the box was designed as a training ground for fitness, the white cube was a training ground for perceptual experience.
***
In Lone Wolf, the spaces of the box and the cube, and their respective ideal subjects, glitch in and out of each other. What sort of artwork is this?
Although it evokes familiar themes of the body, the community and care, Lone Wolf is not a work of socially engaged art. The work is not participatory. You are not invited to use the rig, nor to sit on the beanbags and read.
Neither is the work an attempt to critique the institutions of CrossFit or art. As the spaces of both the cube and the box stand framed by the other, there is no place left from which such distanced critique could take place.
Lone Wolf is, perhaps, best understood as an architectural project, one that gathers together with great precision a specific cluster of the forces that have given shape to subjectivity in the late 20th century. Fusing CrossFit's survivalist body with the white cube's refined perceptual apparatus, Lone Wolf is a factory for a new future supersubject—one that sits on a knife-edge between utopia and dystopia.
Nick Croggon
September 2022